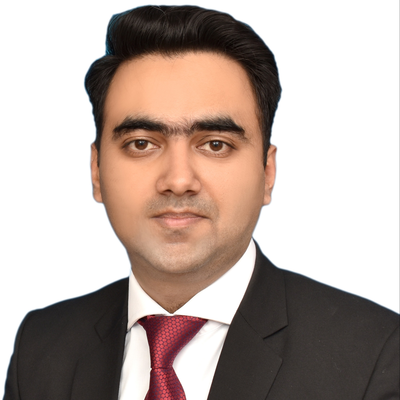 Om Vyas Ali Rajput:
I have three years of work experience in international development, human rights, operations and administration while working for the United Nations Development Programme and the European Union in Pakistan; wherein I provided expertise to the Government of Pakistan. Currently, I am in the first year of studying MSc in International Business and Politics at the Copenhagen Business School.
Erfaring
On the back of my personal and academic experiences, I joined the European Union's rights' based policymaking program "Huqooq-e-Pakistan" (The Rights of Pakistan). I learned report writing and policy evaluation while working at the Ministry of Human Rights. Afterward, I was rotated to the National Commission on the Rights of Child because of its newly established status. The Commission was a small office so I had the chance to work in various portfolios such as research, programme, communications and administration. Utilizing this platform and putting my abilities to the maximum extent, I wrote a policy brief on child beggary, contributed to writing annual reports, developed a filing system, formed a mechanism to maintain an electronic record of press coverage and designed social media content. I participated in institutional capacity-building workshops wherein I conducted training of government officials on effective communication and coordination. In these workshops, I realized the need to train government personnel in effective policymaking and to take a holistic approach instead of operating in silos.
Moving on, I joined the United Nations Development Programme in its implementation of the National Action Plan on Business and Human Rights in Pakistan. I educated myself on the proximity of business and politics and the importance of human rights in this context. I arranged awareness consultations with the business community to highlight the importance of human rights in the business sector. I also wrote desk reviews on child labour, modern slavery, and gender discrimination prevalent in the business sector of Pakistan. The reviews were shared with relevant ministries for improved legislation and the recommendations were shared with businesses to curb the aforementioned issues. Furthermore, I also drafted the 2023 work plan for the National Action Plan's implementation with a focus on reducing gender-based discrimination in the business sector and legislating on Human Rights Due Diligence in businesses. During these activities, I grasped the indispensable role that international development plays in developing countries as most of these activities were co-funded and supported by international rights-based organizations. 
Uddannelse
In my bachelor's of Public Administration, academic courses such as economics, psychology, and sociology expanded my worldview as I learned the benefits of embracing inclusivity and curiosity whereas, courses such as comparative public administration and public policy formulation & implementation solidified my base of public policy learning. Furthermore, I learned about the close relationship between globalization and politics from modules on political science and international relations. In my senior year, I conducted a policy analysis of Pakistan's milestone counterterrorism policy, National Action Plan 2015, as the Final Year Project. This exercise tested my theoretical skills against practical dimensions through qualitative and quantitative research methods. I interviewed policy experts with a mix of open and close-ended questions and conducted a public survey. While studying the semester-wise course distribution of this programme, I found that the course curriculum is an advanced study of the subjects I studied in my undergraduates such as Applied Political Analysis, Advanced Quantitative Methods and Applied Political Economy. 
Fagfolk, der konkurrerer med Vyas
Fagfolk fra samme Administration-sektor som Vyas Ali Rajput
Fagfolk fra forskellige sektorer i nærheden af Korsør, Slagelse Kommune
Job i nærheden af Korsør, Slagelse Kommune
Fundet i: Jooble DK S2 - for 5 dage siden

---

ATP

Sjælland, Danmark

Fuldtid

Kan du analysere forretningsbehov, specificere krav og omsætte viden til løsninger? Vil du arbejde med landets mest interessante datagrundlag og være med til at sikre, at velfærdsydelser havner i de r ...

---

Region Syddanmark

Nyborg, Danmark

Vi har flere ledige vikarstillinger, vi søger: · Tilkaldevikarer · Vikarer til faste timer hver anden weekend · Vikarer der kan arbejde dagvagter · Vikarer der kan arbejde aftenvagter og vågen nat ...

Fundet i: Jooble DK S2 - for 2 dage siden

---

Vil du hjælpe med at tiltrække de rigtige medarbejdere med målrettede kampagner på sociale medier? Kan du skrive tekster, der får folk til at klikke? Og vil du blive endnu bedre til annoncering og emp ...